Thanksgiving is about much more than food. Well, partly about more than food. It's also about the decorations.  I've found a great collection of ways  for Thanksgiving decorations that won't take much time or money.
Whether you like creating things from fall leaves or you prefer to gather up pine cones for your holiday decorating, I'm certain that you'll find something in this collection that will make your Thanksgiving extra special.
Use some of that foliage to decorate for the holiday. Even if you're not into making your own wreaths, a few all leaves and twigs in a vase makes a gorgeous centerpiece or something for the entryway to greet guests as they arrive. If there is no foliage around, use some artificial leaves along with old garden or landscape like dogwood or viburnum berries.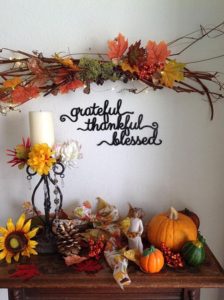 Just grab some burlap, a bit of fall colored paint, and get to work creating the perfect Thanksgiving table runner. Do this in a smaller size and put one on your coffee table, too!
Make a Thankful Tree which is an easy decoration for the holiday. I mean, what's more Thanksgiving than a Thanksgiving tree? Some twigs and a few pieces of construction paper, stationary, paint samples, or whatever you have on hand to use for the messages is all you need. Write down everything you're thankful for, or have guests write things down as they come in and out over the Thanksgiving holiday period.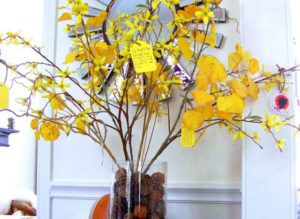 Add burlap, a few small corn husks, whatever you can find to make it look really harvest worthy. A few strategically placed turkeys (not the real ones, mind you) will really help you to make it holiday worthy. Place it on your mantel, coffee table, or even outside. Ideas are endless and do not forget the outside!